Newsletters
If you would like to subscribe to Fox's free newsletter please enter your name and email address in the form on the left hand side of the screen.
Every issue includes a story and ideas for writing your own tales, a lively mix of inspiration and information, poetry and prose.
STRANGE DAYS
It's February! A month of strange days; with Groundhog's Day, President's Day, Valentine's Day and Darwin Day there are plenty of opportunities to curl up with warm friends and celebrate stories in this dark and chilly season.
Read more...
A New Year – A New Story
SO, what new adventures do you have planned for 2013? What goals are at the top of your list? I feel truly blessed to have the opportunities to share in the gift of story with so many wonderful folks, both listeners and tellers. I start the year with an affirmation of eternal gratitude. This year will bring ever widening tours, including Darwin Day in Denver, a possible summer trip to the Northwest and autumn tours to Bayou country. There are two new books in the works, a collection of fables and a biography of Audubon. www.HistoricIllinois.com is expanding into surrounding states and we are formally launching www.johnjaudubon.com. But the biggest news is that my wife and I have purchased a Bed and Breakfast in Bishop Hill, Illinois, www.twinflowerinn.com.
Two New Newsletters

Future Flights of Fanciful Tales
Read more...
Today's News is Tomorrow's History
Yes, it is an old cliché, but a good one, no? This month is filled with history. Just moments ago Barack Obama won re-election; regardless of your opinion on this it is history in the making. It is also Native American Heritage Month. I have a new show that commemorates a pivotal moment in both local and national history. By seeing international news through a local, personal lens history has more meaning. And by debating history we make our own meaning. I am also starting a new company that needs your help. Read on...
Read more...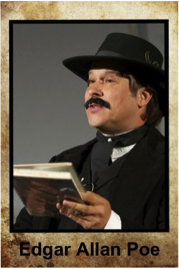 As normal as strange can be, October is filled with late nights in a cemetery, evenings around the campfire, and scary stories told in schools. We will revive the ancient Celtic traditions of Samhein, Edgar Allan Poe will appear at a few libraries and there are some lesson plans for facing your own fears.
And an Encounter with Edgar Allan Poe
Read more...
Kicking Off Another School Year!
I always look forward to the beginning of a new school year! As a kid it was the one time each year that my brothers and I got new shoes and one new outfit, (most of my wardrobe was hand-me downs!). As a teacher I always looked forward to getting to know the new group of kids, the challenge of creating fun lessons that met individual needs, and booking special programs and field trips. To help teachers, (and home schoolers), here are a few articles, lesson plans and a story. To Book a Program please Contact Fox early, since my school year is often full by the end of September.

Read more...
It has been a fertile spring sprouting into a fecund summer and there is whole new orchard of projects beginning to bear fruit before autumn's chill!
FoxTalesInt.com: My Old Web Page gets an Over Haul

HistoricIllinois.com: Helping folks fall in love with their hometown through a celebration of their local history!

JohnJAudubon.com: A Celebration of Birds and Birding

Heartland Sound... Staged: A New TV Show is coming to PBS!

Read more...
Spring Into A New Challenge
When I was a kid our family always spent a day or two of spring break doing some deep cleaning, scrubbing baseboards, putting away winter clothes and getting out the summer shorts, cleaning the garden beds and getting ready for spring planting. In exchange, my mother would take us all bowling or to the zoo as a special treat for our hard work.
Well, I have moved my office, reorganized my staff and done some serious spring cleaning the past few weeks, so I am feeling inspired to launch a few new spring challenges. My new office has an attached Green House, so I am literally and figuratively looking to grow a few new ideas! Like a gardener itching to get outside and get my hands dirty, I am ready to launch a few new projects:
Read more...
The Holidays are a time for family stories and traditions, Christmas, Solstice, Kwanza, Hanukah, Ramadan and New Year Stories! But first, allow me to begin with an apology to those who received my last newsletter as a garbled mess.
I am not sure why, but about half received a pretty newsletter with links that worked and half received a block of difficult to read text. If you scroll to the bottom of this newsletter, I have reposted the links to the articles from last month.
In this month's newsletter:
Read more...
Eating pumpkin custard with my homemade maple syrup for breakfast and then filling the bird feeders, before pedaling my bicycling to the office so I can type up this newsletter and write a press release for my new book, this is my Autumnal task list… what do your thoughts turn to as the last leaves fall from the trees?
Read more...
Riding the Wave of Summer into a Fruitful Fall!
I hope all of you had a delightful and restorative summer… and this installment of my irregular newsletter finds you harvesting stories to keep you warm as you prepare for the chilly season!
Springdale Cemetery Once Again Alive with History

Edgar Allan Poe is Staggering About The Country

As America Commemorates The Ghosts and Legends of the Civil War

The Legend of the Piasa: A Scary Story for Halloween

New Web Page and Postcard

A Calendar Full of Fall Festivals and Spring Conferences

Learning From the Land, second edition, has gone to press! More news in my next newsletter!
Read more...
Okay, I will finally admit it... I am DELIGHTFULLY OBSESSED ... Audubon is an inspiration to me, and many audiences, as an artist, writer, scientist, and conservationist. John James Audubon has been very, very good to me. This spring, I have already presented 70 programs as Audubon including birding hikes, school programs, museum programs and public performances.
Read more...
In like a lion and out like a lamb could describe the entire year and not just this season! I hope this installment finds you in good health and high spirits, and like me, looking forward to getting out on the trail to enjoy the coming warm weather. When you are done reading the news, go outside for a hike and breath deep the crisp spring morning!
St. Patrick's Day

Spring Birding

Update on Audubon Bicentennial

Early Childhood Workshop Roots of Nature

Letters to a Young Storyteller: Early Childhood Earth Day Storytelling
Read more...
LOOKING BACK: A Year in Review and

LOOKING FORWARD: The Year to Come
Read more...
Fall Migration is wrapping up as I migrate from Wisconsin to Pennsylvania to Oklahoma as John James Audubon. Halloween has just past, so why am I surprised that Edgar Allan Poe has received raven reviews?
And before you know it all the leaves will be down and snow will be on the ground! My fall book sale has been extended and I have a new column that responds to your questions!
Edgar Allan Poe's Raven Has Wings!

Springdale Cemetery Will Rest in Peace

A Riverboat Christmas

This Winter's Writing Assignments

Letters to a Young Storyteller: Audience Participation Stories
Read more...
School has started, cool crisp mornings have returned, and though technically a few weeks away, fall is in the air. One last look back at the summer highlights and then we turn our selves to a busy fall schedule with 30 programs for Chicago Public Libraries, a few more riverboat trips, Octoberfest and the Annual Springdale Cemetery Tours! That is what you will find in this issue:
Read more...
Welcome to summer! This spring I performed off-Broadway, (at a little Catholic School off 96th), went to several wonderful birding festivals, and celebrated a slew of Earth Day events. We have already had our first riverboat ride. And I am more than a little excited about some of the Chautauquas and summer festivals already on my schedule! In this issue:
Birding Across America

The Spirit of Peoria Summer Season

Summer Chautauqua Schedule
Read more...
Obviously, I have had a crazy busy winter… and we are well into spring! The proof is this: I have not had time to put together a newsletter in several months! I took the month of January as a short sabbatical from performing to work on writing. I am happy to report that the time has been overflowing with wonder and fruitful projects… the topic of several articles:
My new documentary film, "Voices For the River" is finally finished!

"Singing Up the Sun" my first book of poetry for grown-ups has gone to press!

Write a book review and win a free video!

The Clean Water Celebration commissioned me to write a How-To manual for organizing a Clean Water Celebration for your community!

An Earth Day Story: "Mon-daw-min – an Ojibwa Story about the Coming of Corn"

Summer Reading Possibilities…
Read more...
It has been a busy couple of months with two new books in process, more news later, and a hectic touring schedule, but here is the next installment of the Fox Tales Newsletter:
With many library summer reading programs focused on Make A Spalsh, let me recommend my children's picture book about aquatic ecology The Web at Dragonfly Pond
Two newsletters in two months! This looks like it might be a little more periodic than I anticipated! I hope you are not getting too accustomed to this regularity. I do hope you enjoy the stories of the month and the weblinks are useful. If you have any questions or topics you would like me to cover please feel encouraged to Contact Fox
In this month's issue you can read about:
Rivers of Memory

The Catfish Blues

American Indian Heritage Month

Darwin in Denver

Upcoming programs
Read more...
Finally, after a few years of planning and getting distracted with book deadlines.  My first e-mail newsletter!  Because we have traded e-mail at some point you were automatically added to my e-mail newsletter list. If you would like to erase your name from the list please scroll to the bottom. If you enjoy these little nuggets, please share them with a friend! Every other month or so, you will receive a bit of news, a story, and some ideas for creating your own stories. Please tell me what you think of this new adventure!
To read a more interactive version with more links and photos please visit my webpage Newsletter. To see what I have been up to lately please visit my blog.
WOW! There is so much good news to share, where do I begin?
In this issue you will find:
News from the Frontlines of Literacy

Two new books find their way to Print:

Content Area Reading, Writing, and Storytelling

Charles Darwin and His Revolutionary Idea

A chunk of December was spent in the studio to record three new CDs

Prepare now for the Bi-Centennial of Abraham Lincoln's Birthday!

Prepare now for the Bi-Centennial of Charles Darwin's Birthday!

On a Road Trip to Tennessee A New Young Author's Blog is Born
Read more...