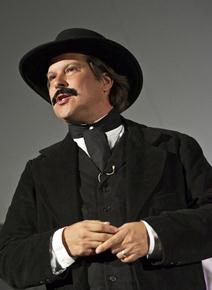 Spend a spine-tingling evening in the parlor of Edgar Allan Poe as he recounts the tormented true tales of his life and how they led to his classic tales of terror. Do not look away as the father of the modern horror story reveals the darkness that lurks in us all, taking us on a journey into the catacombs of our basest fears. Hear him recite "The Raven" and "The Tell-Tale Heart" as well as some of his lesser known work; a body of work that has inspired generations of writers.
Here is a Timeline of Poe's Life and a short Biographical essay on Poe's Accomplishments. In the performance I make reference to Poe's Essay: The Philosophy of Composition. Since some of you have asked where I found it, here is a copy.
The reviews are in and they speak loud and clear to the polish and professionalism of these presentations!
"I am very glad to tell you that Brian's portrayal of Poe is excellent, holding the audience from beginning to end. He recited "The Cask of Amontillado", "The Bells", "The Raven" & "The Tell-Tale Heart" with great effect and certainly portrayed the chilling nature of each. He received appreciative applause from the audience after each recitation. He has really done his homework on Poe and provides a lot of insight. The Q & A session was also very good and showed the depth of his research. I wholeheartedly endorse this program." Doug Cunningham – Librarian
"I just watched your performance of Edgar Allan Poe and was riveted to the nuances and rhythms of the short stories and poetry, but also of the entire presentation. All was beautifully delivered as a brilliant accomplished storyteller." Linda Johnston - High Plains Chautauqua
A great article about my Edgar Allan Poe program appeared in the Lemont Patch, a web based magazine in the Chicago Suburbs.
The Greeley Tribune ran a great photo and interview based on a recent performance at The High Plains Chautauqua!
And here is a letter from an Erie Colorado Librarian about the program!