In large part because Walt was such a prolific author, Fox offers two different programs as Whitman: one is the unauthorized autobiography; and the other recreates a lecture Walt delivered on Broadway that explores the life and death of Abraham Lincoln. Both of these performances have been selected by the Illinois Humanites Council to be part of their Roads Scholar Program. This means non-profit organizations in Illinois can host a performance for a small registration fee and IHC will cover the honorarium, mileage and per diem.
Walt Whitman: A Song of Myself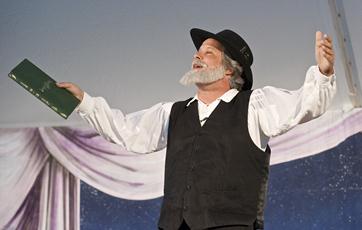 Meet America's pre-eminent poet as he shares the story of his life intermingled with the poems we have all grown to love. Hear eloquent selections from "Leaves of Grass," and his philosophy of free verse. Listen to tales of the Civil War in poetry from "Drum Taps." Celebrate the life of Abraham Lincoln in his eulogy "Oh, Captain, My Captain." Few poets have transformed poetry or captured the voice of America like Walt Whitman. Come, take my hand, spend an evening immersed in the mystical delight of the old gray bearded poet.
Walt Whitman's Lincoln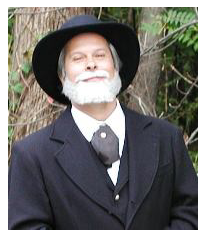 Lincoln was a fan of Whitman's "Leaves of Grass", reading excerpts to clients in his Springfield law office; the one time he took the poetry home Mary Todd threatened to burn it! Whitman's most famous poems, "Oh Captain, My Captain" and "When Lilacs Last Bloomed" were written as eulogies for this martyred hero. After Lincoln's assassination Whitman gave regular lectures on Lincoln to rave reviews. Fox recreates a program Whitman delivered on the Life of Lincoln woven with his Civil War poems and recollections of their misty morning encounter during the war.
Brian "Fox" Ellis, more than a fan of Whitman, spent a week in New York and Brooklyn, walking in Whitman's footsteps with a Harvard educated, Tony nominated, Broadway actor, poet and play write, taking turns reciting Whitman to anyone who would listen, often reading poems in the places they were written. Fox has created more than a dozen one man shows, several of which have received funding from the Illinois, Indiana, Iowa and Missouri Humanities Councils. He is the author of 16 books including three books of poetry. He teaches creative writing across the curriculum with an emphasis on using poetry to bring history and ecology to life.
Walt Whitman is well known for his list poems. Some say he created the form, while he might argue that the origins go all the way back to the Old Testament. Follow this link to learn more about the form and how to write your own list poem.