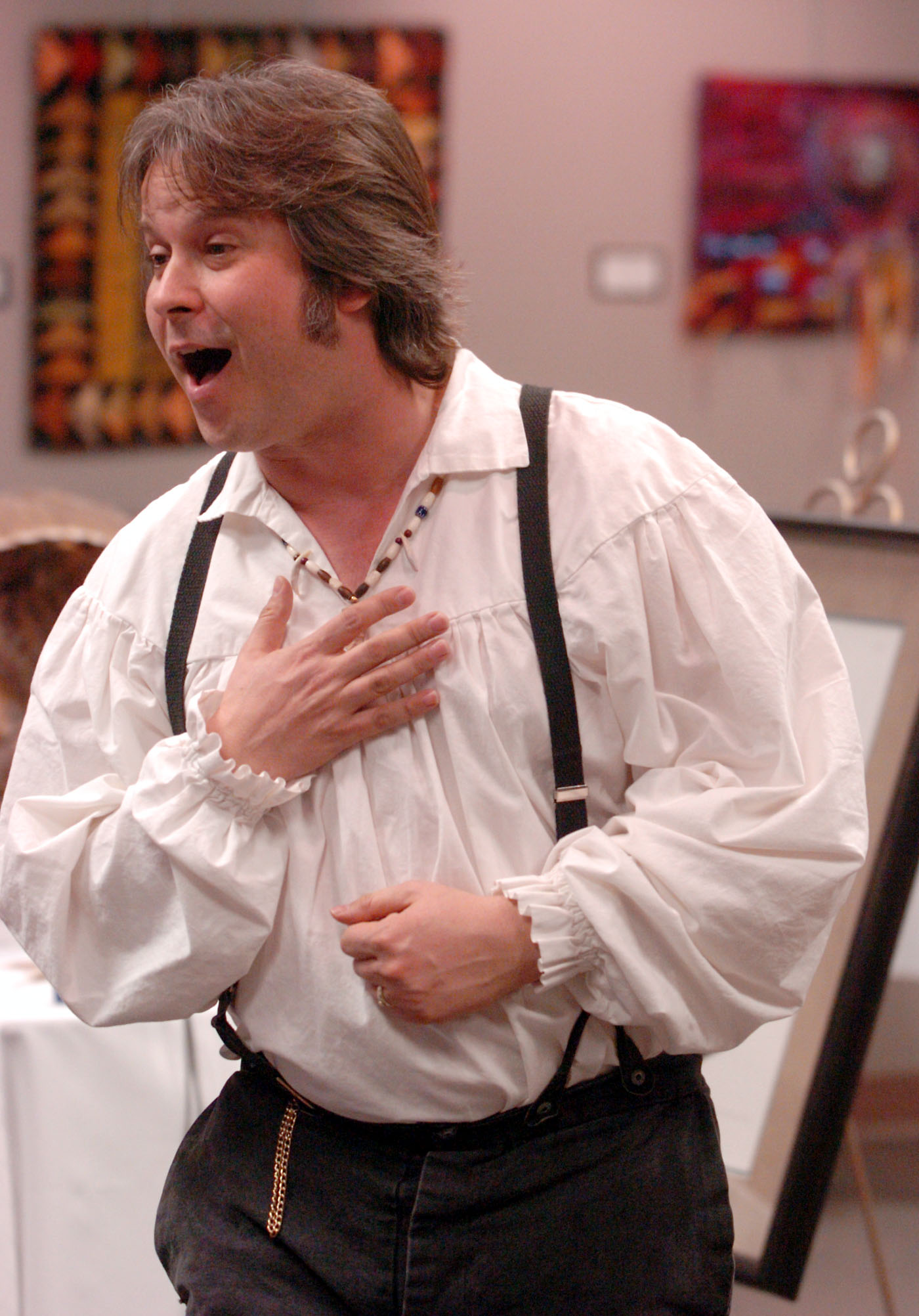 John James Audubon Is On Tour
And Would Like To Visit Your Museum,
Nature Center, School, or Birding Festival!
Invite John James Audubon, naturalist and artist, to your community for performances, workshops and guided birding. Storyteller and author Brian "Fox" Ellis, in the persona of Audubon, brings history, ecology, art and literature to life in this meticulously researched program that celebrates the life work of one of America's greatest artist and naturalist!

The passenger pigeon discussion and your disbelief when the audience told you they'd never seen them or the Carolina Parakeet made me tear-up, despite the fact that I knew that would be in the presentation. You were Audubon to me.
Julie Barr, Public Programs Coordinator, Dickson Mounds Museum
Each performance is custom tailored. For instance, here are two slightly different programs if presenting twice at the same conference:
A) Spend an hour in the studio of one of America's greatest naturalists and wildlife artist. Listen to tales of his adventures as he finishes something no one had every accomplished before: drawing every bird in North America. Audubon will enchant you with stories of his travels and travails in the wildest places on the planet. He will celebrate the natural history of the North America as he saw it in the early 1800s.
B) In this second performance Audubon will bring to life bird behavior, focusing on the birds you are most likely to see as you go bird watching in this area. Audubon followed the annual migrations of birds throughout North America in the 1820s and 1830s, keeping meticulous journals on the birds he saw. With lessons on field ecology, the scientific method, art history, and bird migration, the audience is invited to imitate birds and discuss the life histories of their favorite feathered friends.
Performances can be geared towards professional ornithologists, family audiences, school groups, or the general public! Fox has performed at a wide range of birdiing festivals and can even focus his interpretation for Hummingbird, Eagle and Crane Festivals.

Join Audubon on a museum tour that includes art history and ornithology.

Storyteller Brian "Fox" Ellis portrays Audubon in these entertaining and meticulously researched monologues drawing from Audubon's journals, essays, and letters to his friends and colleagues. This program was developed with a grant from the USFWS as part of their celebration of the 100th anniversary of the National Wildlife Refuge System. Fox has performed as Audubon in museums, nature centers, schools and libraries across the United States, including Audubon's home in Henderson, Kentucky.

As John James Audubon, Brian was fantastic! The audience was enthralled and became an active part of his program. The response was overwhelmingly positive. Gretchen Small, Program Director of Deere-Wiman House and Butterworth Center, Moline, Illinois.
Workshops:
BIRD IS THE WORD: Journaling, Poetry, Non-Fiction Writing, and Ornithology - A poet's eye and gift for language is very similar to the detailed observation and ability to communicate complex ideas required of field ecologists. In this participatory workshop you will learn some tips for effective journaling. You will learn to use haiku to focus your eye and ear. You will learn to use poetry to write clearer more exciting essays and turn your field notes into publishable articles. Come to celebrate the voices of nature and find your voice in the natural world.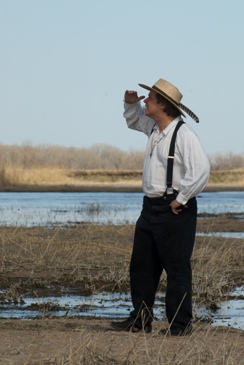 Let's Go Birding with Audubon! - Join Mr. Audubon on a unique bird watching adventure as he regales listeners with his in-depth observations of the species we happen to see along the trail. Long before Stokes and Sibley, Audubon published several pages of field notes, an "Ornithological Biography," for all 435 species of birds that he painted.
Becoming A Better Bird Guide – Whether you have lead a hundred trips or have only been birding on your own, this dynamic workshop is poised to help you take it up a few notched to lead truly memorable field trips. We will share what works, what engages participants, and what each of us has to offer in this round robin sharing, facilitated by John James Audubon himself!
This cross-curricular program brought together Science, Art, English and Social Studies in a single informative and entertaining atmosphere. Mr. Audubon did a great job of relating to junior high and high school students. He had a good mix of humor and animation which kept their attention well. He led an entire auditorium through a scientific investigation in a matter of minutes. The group formulated a hypothesis, tested it, and then drew conclusions about the results. It was a great way to reinforce scientific thought as well as gain some new knowledge about a very common species: the barred owl. Judy Fitzgerald, Principal, Beardstown H.S.